Phone & Internet
Phone and internet in Tokyo can be tricky in Japan if you want to keep your costs down. If your from is from the US, then I wouldn't plan on doing much talking on your phone.  Not that you would have to anyway, with all of the chat apps and free phone apps.  I have Verizon, and the plans are straight out of 1995 with limited minutes and 100 MB of data for $45.  Or you can bring your calling plan abroad for $10 a day.  That's not a bad deal but I have a few devices like my PC and tablet that will need internet and I don't want to drain my phone battery with a lot of hot spotting.
Narita has a list of places to rent mobile phones, and you can rent SIM cards, too, but most of those sites are in Japanese, and it can be confusing trying to figure out if your phone is compatible.  You're better off doing a Google search for "rent phone and internet in Japan" to find pages in English, but some places look dodgy.  What I recommend instead is to get a mobile internet dongle since you can connect multiple devices to it, and multiple people can use it.

I went with a company called Japan Wireless.  For 7,350 yen (about $70) I got a dongle for 8 days including a battery backup, which was nice.  I could use that on my phone as well.  The package is waiting for you at Japan Post when you arrive and it includes a return envelope that you put in the Post Office bin before you fly out.  Keep in mind this is just for internet, not phone, but it works well.  I was able to live stream to Facebook using it so internet calls probably wouldn't be a problem.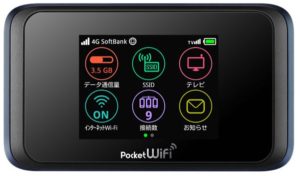 If you're going the AirBnB or VRBO route, nearly all of them have an internet dongle included with the room.  Feel free to use that if you want to.  I just didn't want to wait until I was in my room to get internet again, and it was nice having a second dongle when the one I rented started to get low on battery power.
Keep in mind you will need to have this reserved a few days before you leave.  They will have to mail your package to the post office.  When you get there just show them your receipt and give them your name and they will know what to do.