Shibuya (
渋谷

)

Shibuya has evolved into one of my favorite places in Japan.  It has everything.  If you want lights and sounds, it has that.  If you want a mass of Japanese humanity, it has that too.  It has Hachiko.  And the video screen from "Lost in Translation."  And the Starbucks where you can people watch.  Karaoke.  Bars.  Western food.  Everything.  It's a great place to meet someone if you want to go out for the night.
Photos
Google Images – Shibuya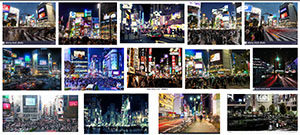 Video – Shibuya Station
.
Videos – Shibuya