Nakano (
中野

)

Oh, how I love Nakano.  I stumbled upon it while going to Broadway Nakano, the large retro/cosplay/whatever shopping center that's there.  While walking around I discovered an incredibly quaint little neighborhood area that just oozes Japan.

Broadway Nakano is a shopping complex that's a bit past it's prime, feels a bit lonely, but still survives.  You will see smaller "Mom and Pop" shops selling mostly retro and otaku items.   When you buy something it's usually directly from the store owner.  You'll find things from your childhood as they were marketed in Japan, things like a Count Chocula figurine from the 80s or a Buzz Lightyear toy from a Japanese Happy Meal.  It's a fun place to walk around and if you find the right shop you'll have five "WOW" moments within the first minute.

A lot of these things are sold on the internet today (Yahoo Auctions Japan) so there aren't as many stores there as before and it's not quite as relevant.  But back in the day someone could walk in there and find their Mecca, similar to Akihabara.

When you are done with Broadway Nakano, start your walked back to the station down the left hand side.  You'll find an incredible amount of quaint and picturesque restaurants serving everything Japan has to offer.  It's one of my favorite places to stroll in all of Japan.

Finally, this is the home to the gallery of Takashi Murakami.  He is the one who did the crazy pictures you see on the tops of the main pages of this website. He recently opened up a coffee shop in Nakano Broadway and you can buy prints and other merchandise there.
.
Pictures
Video
Google Images – Nakano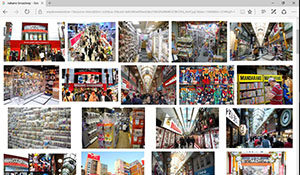 YouTube – Nakano, Japan