Akihabara (
秋葉原

)

Game shops, maid cafes, arcades….it's all in Akihabara.  You can do some duty free shopping, check out the latest Mario, pick up a cosplay wig, hit the anime shop, then have lunch with girls in French maid outfits (but not really if you're foreign).

Back in the day this place dominated a lot of the electronics and video game sales before the internet and Yahoo Auctions took over.  It's transformed itself somewhat, bringing in a lot of fun places to eat and sight-see, and is still one of my favorite places to walk around.

You'll find literally hundreds of shops packed in from the flagship Sega arcade to the small shop run by some guy who specializes in some kind of extremely niche electronics.  Pick any building and start walking up the narrow staircases to each floor and find some hidden gems you had no idea existed, or marvel at the complete spectacle of their sensory overload arcades.  You can get lost for hours.  Or show up at night and walk the streets and absorb the lights and sounds.

It's also a good place to pick up some presents for family and friends back home, especially if you're buying for younger boys.  They sell just about every electronic gadget known to man and probably have the greatest selection of electronic toys in one space in the world.
Photos
Google Images – Akihabara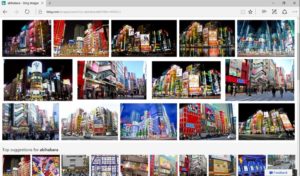 Video – Shopping & Games
YouTube – Akihabara