Ginza (
銀座

)

At one point Ginza had the most expensive real estate per square foot in the world (or so they claim).  It's a place where corporate Japan puts on it's best show with flagship buildings and stores that has the feel of a Japanese Beverly Hills.  At night you can get some beautiful pictures of unique buildings.

It's not the most user friendly place in the world with pricey restaurants and bars, but you can hunt and find some reasonable places to hang out for a couple of drinks.  The main area is only a couple of blocks so you can walk it pretty easily, and the location is close to Tokyo Station.

Ginza is also where you will find the Kabuki playhouse, a beautiful Japanese cultural experience that's not to be missed.  You don't have to stay for the full show if it's 6+ hours, most people don't.  Catch the show then after the sun sets walk the streets.
Pictures
Google Images – Ginza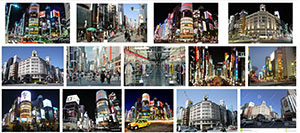 YouTube – Ginza