Sensouji Temple (浅草寺)
Sensoji Temple is a great little area in Tokyo that I really didn't discover until my last trip there.  It's your typical Japanese temple that has a walk-up lined with trinket stalls and other souvenir shops.  If you want to combine culture with some great places to pick up gifts for friends back at home, this would be it.
The area around the temple has a lot of smaller places to eat that had lines out the door, the kinds of places that look like they have a famous item that everyone gets.  And it's just a short jump away from Sky Tree if you want to get an amazing view of the city.
Pictures
Google Images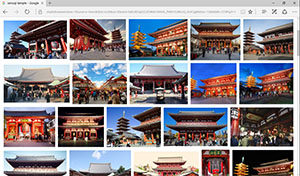 Video – Walk-through
YouTube – Sensouji Temple